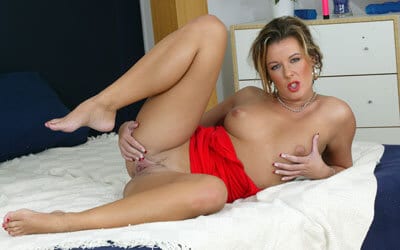 I love to fuck, I can't help it. The idea of having a nice hard cock in my pussy or my arse makes me so fucking wet that my pussy drips. The one thing I never had was a cock in both…until the day I needed my couch moved, the day of my first DP. I had a huge couch that weighed way too much for me to move, so I called my brother and asked him to help.
He was too busy, as always, but sent over a couple of his friends to help instead. They were a pair of strapping guys full of muscles, and I caught them checking me out as they moved the couch. I was wearing a T-Shirt with no bra and with a few quick tweaks, I made sure my nipples were poking out.
I told them I didn't have much in the way of money to pay them, but there might be something else I could do. I took off my shirt and let them see my tits. I led them to my bedroom and within seconds we were totally naked.
I felt so pampered as their hands roamed my body and found my tits and pussy. I felt ssssooo hot as their hands filled my pussy and they were finger fucking me hard….hhhhhmmmm I loved it! They didn't quit until I was rubbing my pussy hard against their hands and my body rocked from the orgasm. 'oh yeah, mmmmhhh, aaaahhhhh…'
They bent me over and I thought I was going to get fucked, but instead they brought a bottle of lube and soon my arse was filled with fingers as well. Both my holes were willing and ready, but I wanted to make sure they had some pampering as well.
I grabbed a cock in each hand and began stroking as they continued rubbing my pussy. I couldn't take it anymore and soon a cock was in my mouth. It filled my mouth, and I could taste the salty precum already. I knelt on my knees, and they stood over me with their cocks pointed at my face. I took turns in sucking on each one, 'ooohhhh how they tasted sooo goood… – I feel just sooo naughty, sssooo dirty!' but I knew they wanted more….
Oooohhh how my cunt ached to be fucked. I got on all fours and let one enter my pussy from behind, while the other kept his cock in my mouth. It felt sssooo amazing being pounded from both ends. He had no problem fucking me, my pussy was soooo wet. The other guy's cock was being rammed into the back of my throat, and I gagged a couple times, but he didn't seem to mind.
They seemed surprised when I told them I wanted a cock in my pussy and one in my arse, but they were up to the challenge of fulfilling my first DP dream. We changed positions so one cock stayed in my pussy and the other slowly slipped his deep in my arse. They both fucked me – hhmmmm, aaaahhh…it feels sooo gooood! I've never felt sooo horny, hhmmmm and so very full, aaahhhh. I had every hole fucked and it was bringing me closer and closer to coming with each thrust. I pleaded…. 'oooohhh don't stop, harder, harder, more, more…!!… HARDER, HARDER..ohhhh yeah….hhhhmmm…'
We all came at the same time and I had cum dripping from every hole. The feeling as their hot cum rushed inside my arse and pussy was one I needed to have again and again. A great end to my first DP!
Text and exchange filthy pics with HORNY HOUSEWIVES right now! They're waiting for you to message them so don't hang around!