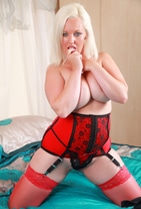 Hi Guys, I'm Rachel. I didn't get the title of horniest MILF in Britain for nothing!  I'm a filthy, horny slut.  I always have been to be honest, it just seems like I'm getting sexier and hornier the older I get! Since I hit my thirties I've just been mad for cock and all things filth!  SMS MILF sex offers me yet another outlet to get my kinky kicks. Especially so as I'm an expert at role-play! I remember one of my first role play experiences…..
"I'd not long turned 30 and my friends and I were out shopping for fancy dress outfits for a party.  I ended up going off on my own and finding a sex shop that sold kinky, fun dressing up outfits.
I strolled in and spotted the cute, guy behind the counter straight away.  He asked how he could help me,  I managed to stop myself from listing all the filthy ways he could indeed help me and asked for a selection of outfits instead.
He led me to the back of the shop to a curtained off changing area and brought me a few outfits.  A short, tight nurses outfit.  A PVC, short, tight devil costume.  And a short, tight, low cut french maid outfit.
I tried each outfit on, each time pulling back the curtain, strutting into the middle of the shop to admire my look.  There was a mirror in the changing area of course, but where was the fun in that!?
I liked how his eyes followed me.  I knew I was teasing his cock, making him hard for me, making him want to fuck me, it was written all over his face.
By the time I got to the third and final outfit, I was raging horny and needed fucking.  I squeezed my huge, beautiful tits into the tight little dress.  My arse cheeks peeked out from underneath it it was so short.  My wet, black, lace panties were clearly visible.  I slipped my 4" black patent heels on, picked up the accompanying feather duster for the final touch and pulled back the curtain again.
His eyes were on me straight away and I'm sure I heard him groan.  This time I strutted straight over to the counter where he stood and said 'Excusez-moi monsieur' in my best french accent, with only a slight giggle 'may I 'elp you? Do you have anything dirty? Anything that needs….polishing?'
Without a word he went to the door of the shop, changed the sign to closed and pulled the blinds down.  He walked back over to me, the bulge of his hard cock evident in his jeans.  Taking his time he unzipped his fly, pulled his cock out and said 'Polish this'.
Finding myself amusing I lightly stroked his cock with the feather duster, smiling as his cock jumped and twitched.  He was obviously taking the role play a little more seriously than me, he grabbed my wrist tightly, pulled me closer to him and said 'Listen you little slut.  If you don't get down on your knees and suck my cock right now and suck it good, I'll dock you a months wages, do you understand!?'
I was stunned by his reaction,  but so turned on by the scenario I couldn't help but get into it.  'Ou..Oui Monsieur' I answered, nodding eagerly as I fell to my knees.
I opened my mouth wide and took his whole cock inside my mouth, sucking and slurping eagerly on his hard length.  He ran his fingers into my luscious blonde hair, using his grip to fuck my throat, going deeper on every thrust.
He carried on fucking my mouth, both of us moaning and groaning.  Just when I thought he was ready to shoot his load right down my neck, he pulled out, pulled me to my feet, bent me over the counter and rammed my pussy full of his cock.
'Fuck, you are so wet' he said 'you love it don't you slut?  Love your pussy filled with my cock.'
'Mmmmm Oui' I replied as he fucked me hard 'Oui, oui Monsieur!' I was cumming.
Cumming hard all over his cock, while he continued to pound my cunt.   'Oh fuck yes, cum for me bitch' he said, ramming his violently throbbing cock deep inside me for one last thrust.   He pumped me full of cum, my pussy still contracting tightly around him.
I caught my breath afterwards and made my way back to the changing area.  My pussy was oozing with his cum as I returned to the counter a few minutes later.  The blinds were up, the shop reopened and I paid for my items as if nothing had happened.
'You have a nice day now' he said as I made to leave with my purchases.  'Merci monsieur' I replied with a wink and left. "
SMS MILF sex is just SO hot! Especially so because we can swap hot pictures on our mobiles. There's nothing more horny than receiving a sexy pic of a cock shooting its load just for me. WATCH MY VIDEO PROFILE and text me NOW! I can't wait to hear from you!