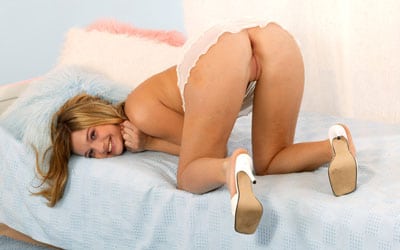 My Dad always liked having his best friend over and I liked being a teasing whore by strutting around in skimpy clothes and bending over so he could see my arse. I was off limits and he knew it, which just made me all the wetter. I'm a very happy and energetic person so I'm always bouncing around. He loved to watch my perky tits bounce and I get disapproving looks from my Dad. One day while I was home from college, he and his friend was watching the game when they ran out of beer.
Most of the shops were closed but my Dad offered to drive the 30 minutes to get some more. By then his friend was more than a little drunk and he looked at me like a wolf ready to pounce on a lamb. He walked up and told me how much of a little teasing whore I was and Daddy wasn't here to protect me. He grabbed my arm and threw me on the bed.
He expected me to be scared but instead I just smiled and took off my panties. My hairy bush was already wet and he could see my panties were drenched. I took off my shirt and lay there completely naked for him to see. Hhhmmmm his cock hardened in his pants and it made my pussy ache hhhhmmm. I want you!! I want you so bad!! Oooohhh I'm so horny mmmmmhhhh….
I could tell he was scared now and worried about my Dad but I bent over on all fours so he could see my arsehole and wet pussy. That seemed to give him courage because soon his cock was out and he was stroking himself. Hhhhhmmmm, mmmmmhhh…I started to moan, hhhmmmm I want your cock, I want your cock NOW! I begged….
I lay back down and fingered my tight little hole. Hhhmmmm, ooooohhh It felt so good…Hhhmmm…I rubbed my clit and finger fucked my pussy as he watched. Oooohhh mmmmhhh It turned me on so much to see him stroking his cock for me and soon I was rubbing my cunt faster and faster, harder and harder…hhhhmm, mmmmhhh, aaaahhhh… I moaned….hhhhmmm ooooohhh yyyeeesss YES…!! and I came hard on the bed. I lay there content but I knew he wanted more from this teasing whore.
I grabbed his cock and swallowed the shaft sucking him off. Ooooohhhh he tasted SO good! I begged him I want your cock, hhhhhmmmm I NEED your cock in my pussy….please…hhhmmmm… He lay on the bed and I straddled him, letting his hard cock enter me slowly. Hhhmmm aaaahhhh mmmmhhhh I rocked against him…
Mmmmhhh aaaahhhh…His cock felt so amazing hhhmmmm mmmhhhh. He was so hard and I was bucking up against him like a wanton whore. I rode him hardcore and he came hard inside me…hhhhmmm, aaaahhh his warm jizz inside my hot pussy felt aaaaaahhhh mmmmhhhh so good ahhhhh – ooohhhh, yes, yes, ooooh YES hhhmmmm….yesss….!! I came harder than ever before…..Mmmhhhhh…His load was dripping from my cunt as I heard my Dad's car pull into the garage.
He hurriedly got dressed as I sat in our puddles of cum and he went back to watch the game. I put my clothes back on just as my Dad walked through the door with the beer. Hi Dad I said with a grin.
Ever since then, they always seem to run out of beer during the game.
Chat with more flirty, filthy girls right now! These naughty babes are just gagging for a totally dirty call.