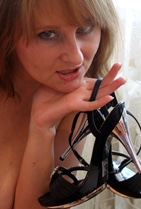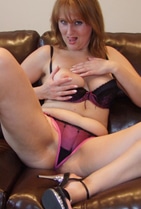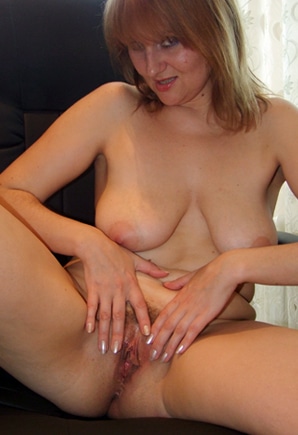 Geri
Seeking Satisfaction
"It really is true what they say about bored housewives you know, we're proper filthy fuckers. We have all day every day to fantasise about hard, nasty sex and play with our hungry pussies. That's what I do anyway! I wank my poor pussy raw some days, just to try and stop the constant throbbing ache.... I'm just horny and sooooo wet ALL the time! I love playing with my toys and luckily enough I have a whole box full, it's a good job too, I need all the help I can get trying to sate my greedy pussy! I fucking LOVE sucking cock. Sucking, licking, kissing, nibbling, slurping....mmmmmm I can make a meal of one for hours! Ohhh and mmmmmmm I can't get enough of my arse being played with! Fingered, licked, filled, stretched, fucked, I love it all, it makes me cum so fucking hard. My pussy's throbbing again just thinking about it!".
AGE:

42

LOCATION:

Moray, Scotland

STATUS:

Separated

SEXUAL PREFERENCE:

Wanking, fucking, sucking, anal play, bi curious, kinky, being watched, being shared, being an all round dirty little slut! - EVERYTHING..!!!
Hot housewives love it all! Fingered, licked, filled, stretched, fucked!
Geri is one hot housewife not to be missed. She wants it, she needs it and right NOW! She gagging for it. Want filth? Then Geri is the one for you! We could spend all day telling you want she likes but it could take forever. Put simply, she's likes it ALL, loves it ALL. Off the top of our heads, there really isn't anything she won't do. See being married does get boring. Our housewives can't take it anymore so are in search for satisfaction. Sex text with housewives – HOT!!