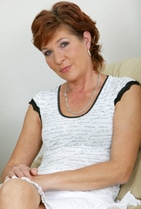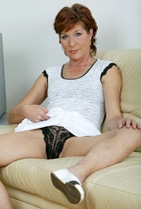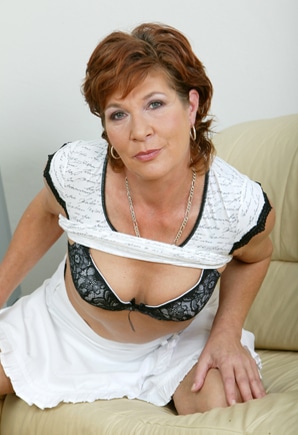 Julie
Cock Hungry 50+ MILF/GILF
"I'm a mature married Mother of two grown-up sons. I lead a naughty secret sex life behind closed doors. I am a cock hungry 50+ MILF who wants her wet, hot pussy and tight arse-hole stuffed with plenty of young dick. Working as a college lecturer, I fantasise about the hunky male students. I really can't wait to get home to masturbate. I actually have an obsession with wanking. Sometimes I get so horny I even do it at work in the staff toilets. I constantly dream of cheating and the sight of my sons friends really gets my juices flowing. These young fit fellas are such a turn on. I joined TEXT SEX CONTACTS to satisfy my urges to shag a fresh cock. I love texting dirty messages to complete strangers. Receiving a picture of rock hard shlong - I am almost ready to burst. Fancy a fantasy fuck with a mature lady? Text me TODAY; I am a MILF on a wank mission."
AGE:

53

LOCATION:

Ipswich, London

STATUS:

Married but seeking sex

SEXUAL PREFERENCE:

deep penetration, dressing up, role playing, dirty talk, anal, masturbation, sex toys, cum swallowing, doggy style sex, spanking, deep throating, watching porn, fucking younger men, outdoor sex, blinding folding, having affairs
If You Like 'Em Old and Filthy, You'll LOVE Granny Textsex!
Older women know how to push ALL the right buttons to make you cum harder than you've ever felt before and you won't find them older, dirtier or sexier than right here at the UK's favourite granny textsex service.1-2-1 filthy fun with wrinkly old sluts and dick sucking gummy grannies. Browse the picture and video profiles, find your perfect granny playmate, text and cum! It's THAT simple. Don't wait a moment longer to experience a heightened, sexual experience like never before!