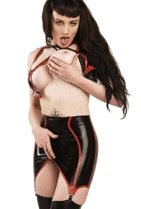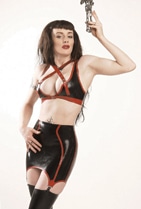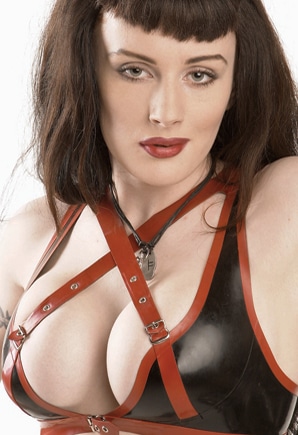 "I am a ruthlessly terrible and seriously dangerous 30 Plus dominatrix from Chester who owns the biggest and baddest strap-on collection in the whole of the UK. I can fill my entire attic with my vast selection of punishment equipment. I am a slick and shiny latex wearing mistress sex slut offering sweet pain and ultimate pleasure. I am a cruel woman that rules!! What I say goes - you will soon learn to worship me! I want to make you cry for mercy. I am seeking submissive men to kneel and crawl before me. Do you want to be roughly tortured and banished from the heaven of femdom domination? If you're answer is YES - text me today. I will execute orders and you will obey! I want to you to live your life for ME!! You must endure the pain of a thousand floggings for my personal satisfaction! I guarantee that you will gratefully thank me for the experience!".
AGE:

39

LOCATION:

Chester, North West

STATUS:

Bisexual relationships

SEXUAL PREFERENCE:

spanking, anal, deep penetration, dressing up, role playing, sex toys, rimming, whipping, shackles, S&M, bondage, dressing-up, swinging, vaginal clenching. deep throating, leather and latex, bondage, stripping, group sex, bdsm
Explore your submissive Side with Domination Adult Chat!
Does the thought of submitting to a xxx FemDom get you hard? Do you crave to get on your knees for a fierce, exquisite Domme? We offer the finest example of fetish sex text chat and Domme/sub roleplay right here. You crave to please, ache to serve and now you can. Choose your powerful, ball busting FemDomme or compassionate, orgasm denying Mistress, text her and prepare to serve your better! 100% kinky satisfaction guaranteed. You won't find kinkier domination adult chat anywhere else on the net.