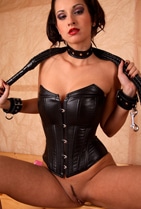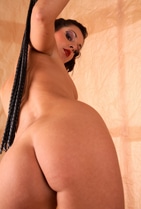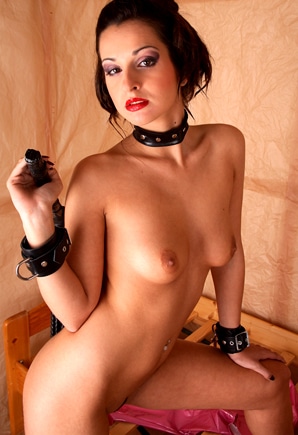 "Suck em, fuck em - eat em up and spit em out. My philosophy on life. I don't want a boyfriend, I don't want a husband and I certainly don't want kids. I want to fuck and fuck hardcore and that's the bottom line. Not sweet missionary sex in a snuggly bed - oh no..!! I want you bound, gagged, bent over in my dungeon and ridiculed into sex acts acts beyond your most extreme and bizarre imagination. The rules are - I am the dominatrix, I am in control, you are MY sex-slave and you will do everything I demand - simple..! If you don't like it, fuck off and text some sad housewife who's obvious desperation is pathetic. If your brave enough to be my femdom sex tool - then contact ME. Note - I despise time-wasters"
AGE:

24

LOCATION:

Dundee, Scotland

STATUS:

Single

SEXUAL PREFERENCE:

BDSM, slave-training, chaining, bound and gag, whipping, spanking, dildo and strap-on fucking, pissing (not scat), hardcore role play, obedience, control, sadomasochism, lesbian sex, xxx pain and pleasure.
Text a hardcore dominatrix for the extreme of fantasy play!
Domination sex texting of sublime quality. We only promote the hardest of hardcore professional femdoms for the kinkiest of fetish fantasy fun. These slutty bitches have the power to fulfil all your secret desires. Anything goes in their dungeon of delights. Unshockable, unstoppable. These are some serious sisters and they will show you no mercy. Text Sex Contacts is unquestionably the internets best sex chatlines. Hundreds of profiles, all genres, and new contacts added weekly. Why go elsewhere?